The Return of The Gator Store!! The Gator Store will be back on January 23rd and 24th!! GET THOSE GATOR BUCKS READY! 🐊💵🐊💵

Friday Night at the Indoor Swamp 🏀🏀🏀🏀🏀🏀🏀🏀🏀🏀 🐊🐊Gators vs Bears🐻🐻 JV Boys at 5pm, followed by Varsity Girls at 6 and then Varsity Boys. Admission is $10 at the door for school aged and up. Come Out and Support!

Pizza Pig Out!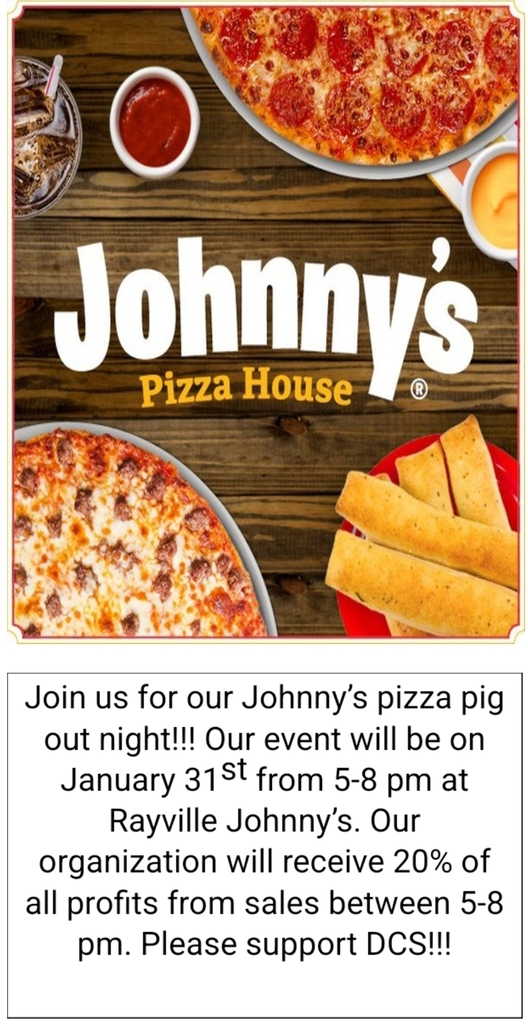 The DCS Powerlifting Team attended the Billy Jack Talton Invitational in West Monroe, La. Merritt Coenen brought home the gold in the 181 pound weight class with a 1250 total. Katie Williamson also brought home the bronze medal in the 181 pound weight class with a 715 total. The following lifters broke DCS school records. Gentry Guice broke the 123lb weight class record with a bench of 85 lbs and deadlift 215lbs . Kameron Gray broke the 198lb weight class deadlift record that's stood since 2009 with a lift of 465 lb. Merritt Coenen broke the 181 lb weight class bench record with a 295 lb lift. #GatorStrong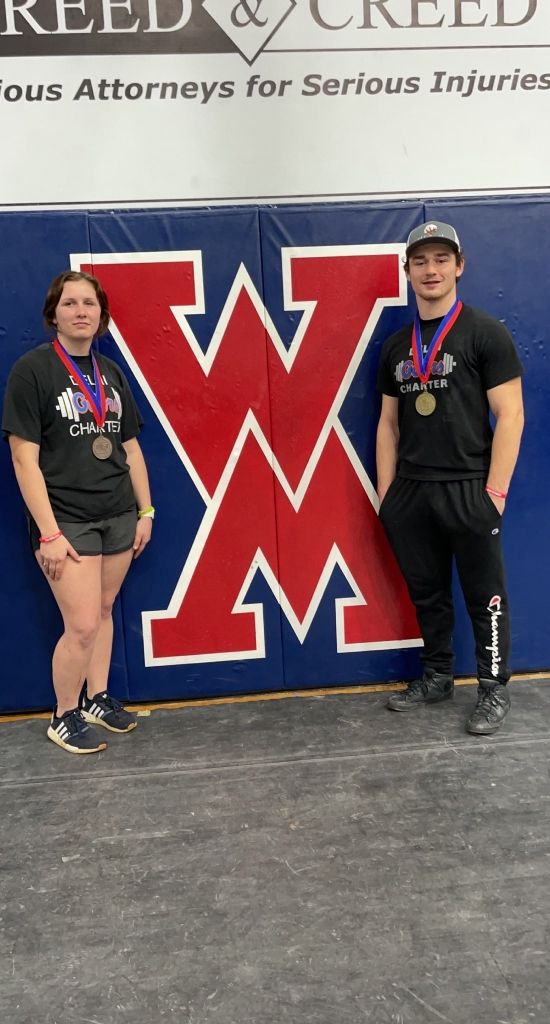 The 2022 Fall Sports Banquet will be held on Thursday, January 19 at 5:30 pm in Amber Hall. The 2022 Varsity Bayou Belles, Varsity Cheerleaders, Varsity Cross Country Team, and Varsity Football Team will be recognized. Dinner will be served starting at 5:30 with the program to commence at 6:00 pm. Tickets will be distributed to the athletes in the coming days.

🐊🏀 Basketball Action at The Indoor Swamp TONIGHT. The Gators take on the visiting River Oaks Mustangs. 3 Games beginning with JV Boys at 5pm. Come Out and Support 🐊🏀

👖🐊DCS JEAN FRIDAYS🐊👖 SCHOOL-WIDE FUNDRAISER Beginning next Friday, January 13, DCS students will be able to wear jeans on Fridays for $1. There are 14 Fridays left in this school year. Students can pay $1 weekly to their homeroom teachers. Weekly Payments must be made by Wednesday of each week. Payment in full for the remainder of the year ($14 as of today) will also be accepted. Cash and checks (made out to DCS) are accepted. Collection of payments will be begin Monday, January 9th by homeroom teachers. Any questions should be directed to Coach Clark at 318-878-0433 ext. 1113. Please support this School-wide Fundraiser.

Gator News You Can Use! Varsity Basketball plays at home Tuesday night. Varsity girls at 6pm. Varsity Boys follow. School resumes on Thursday, January 5th. Our DCS Powerlifting Team will participate in it's 1st Meet on Saturday, January 7th. Details to follow. HAPPY NEW YEAR GATOR FAMILY!

Thursday's Home Basketball games versus Jena will begin with Varsity Girls at 5 pm followed by Varsity Boys. Come out and support Gator Basketball.

Announcing the Lady Gators Jr. High Softball Team '22-'23 8th Grade Allie Henson Maddie Wilkins Alanah Harris Akyrah Alexander 7th Grade Harmony McKinney Peyton Marshall Emma Lupo 6th Grade Gracie Halterman Dani Mize K'Miaya Fletcher Kennedy Killian-Lewis Ma'Ryah Harris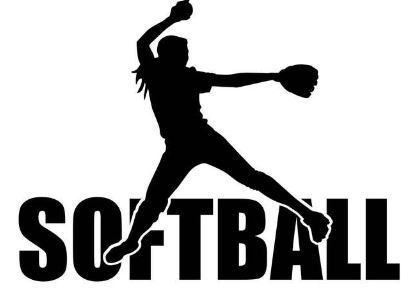 All Students can wear Christmas themed shirts with school bottoms on Tuesday and Wednesday. Merry Christmas!

Here is our list of Approved Vendors for embroidering the DCS Logo on school polos and jackets. EG CREATIONS 5316 Hwy 17 Crowville, LA 71230 (318) 680-3878 MONOGRAMS UNLIMITED 2114 Forsythe Ave Monroe, LA 71201 (318) 387-5989 SACRED GROUNDS EMBROIDERY 207 Depot St. Delhi, LA 71232 (318) 450-0616 Designs By KC Lauren 1915 Mission 66 Suite D Vicksburg, MS 39180 Tel# 601-218-0595 UNIFORMS WE TRUST 4004 Desiard St. Monroe, LA 71203 (318) 572-2566 You can call Coach Clark with any questions regarding dress code. (318) 878-0433 ext 1113

You don't have yo be in 4-H to participate! 🐊🍀

Sorry for the late message. School bottoms must be worn with Ugly Sweaters tomorrow (Friday). Thank You.

Sorry for the late message. School bottoms must be worn with Ugly Sweaters tomorrow (Friday). Thank You.

Due to inclement weather in the forecast, Tonight's basketball games at Caldwell Parish have been postponed to a later date. Practice is cancelled today as well.

Busy week coming up for Gator Basketball. Games everyday except Wednesday. Monday @ General Trass(JVB,VG,VB) Tuesday @ Caldwell (JVB,VG,VB) Thurs Home vs FCCS(JVB,VG,VB) Friday @ OG (JVB, VG, VB) JVB Games start at 5:30. Support Gator Hoops! 🐊🏀

Delhi Charter's high school robotics teams won big at the LSUA robotics competition this Saturday. DCS team Eat Hot Chip, composed of Ashton Harrell, Rylee Graham, Crestin Knight and Jenny Wright, won both the Skills Award for best individual driver and programming skills, as well as Tournament Champions for winning the eliminations at the tournament. DCS team TMNT, composed of Bennett Johnston, Payton Greer, Harley Jinks, Slayter Blake, Zavion Carter, and Lisa Wright, won the Excellence Award, which is the top judged award at the tournament and awarded to the team that excels in all areas of the program.

Congratulations to Joshua Hatten, Logan Spruill, and James Ester of DCS Jr. High robotics team Depleted Batteries for winning both the Excellence Award and Teamwork Champions at the CDJH Robotics Tournament in Alexandria today.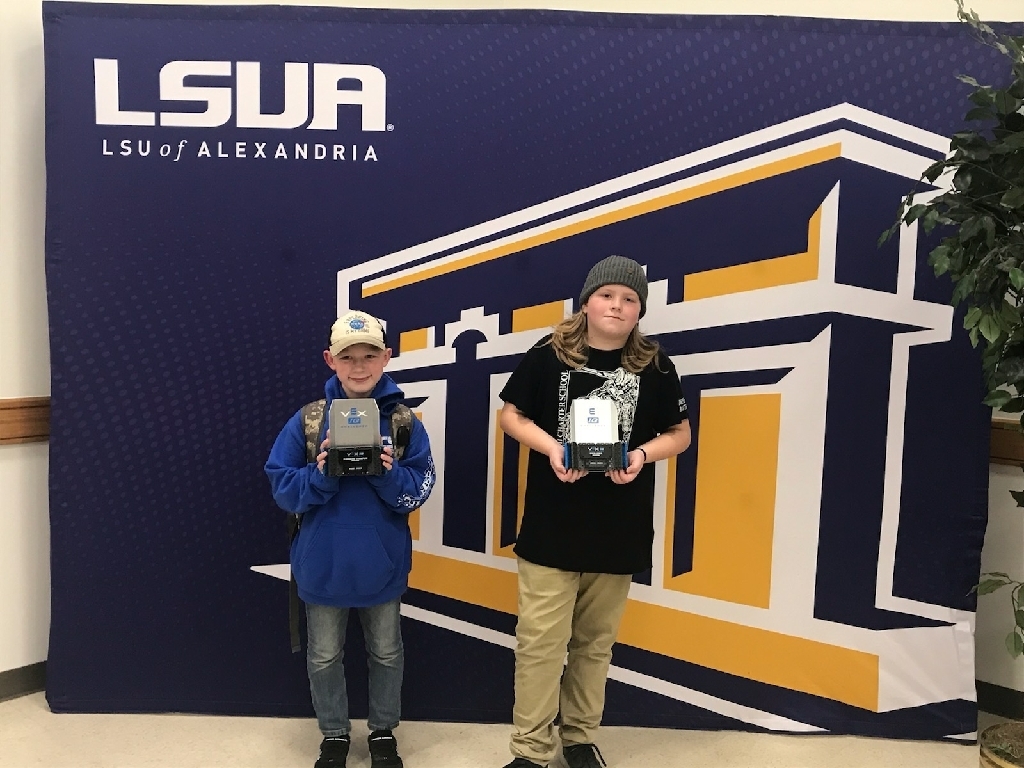 Congratulations to Katie Williamson for placing 1st in the 4-H Fall Cookery Contest!! Also Congratulations to Annabelle Olivoe for placing 2nd in the 4-H Birdhouse Creation Contest.